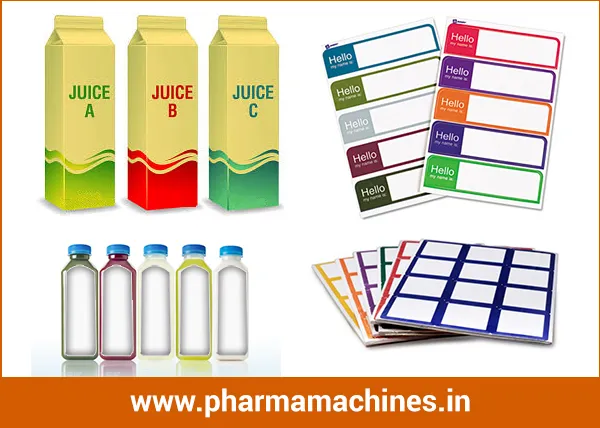 Backed by rich industry experience, Our Company is engaged in manufacturing a commendable range of Sticker Labeling Machine in Ahmedabad. Sticker Labeling Machine that is fabricated by our professionals incorporates latest sophisticated Micro Processor Control Label dispensing system with user friendly Sensing system for Label and Product. This machine is suitable for labeling on round Vials, Bottles and other round objects. It is used to apply the sticker labels to the container which will be duly filled sealed and inspected. This machinerequires the sticker labels in the roll form which will be pre gummed. The container moves on the conveyer of this Sticker Labeling Machine. It will be separated by the feeding roller assembly to maintain the pre determined space between the two containers according to label length and container size. The label is placed on the container immediately when it will be sensed by the container sensor. It ensure instant adhesive of label's edge.
Our manufactured Sticker Labeling Machine has its own unique single point synchronized speed control system. This device is suitable for many varieties of bottles labeling like round bottle labeling, flat bottle labeling, in wine bottles, food bottles, juice bottles. It is capable up to 150 containers per minutes depending on product diameter and label size. We make this Sticker Labeling Machine in strict devotion to industrial standards. Our manufactured machine meets the uppermost quality standards and serves multiple purposes in a variety of industries.
Our organization has gained expertise in supplying a supreme quality range of Sticker Labeling Machines. This machine is manufactured by making use of prime grade raw material along with technologically sophisticated machines and tools. Besides, our respected clients can avail this machine in various sizes, patterns and designs along with various customization options. These machine are developed as per international quality standards and guidelines, these machines have built in A.C. variable frequency drive system and are easy to operate. Our all clients can avail these machines from us in variegated designs, sizes and specifications as per their requirements.
Process operation
The round containers positioned and accurate spacing between two containers by the roller spacing device for wrap-around operation at the operation at the labeling point, an electronic product sensor container and release a label from self adhesive label roll. If machine is equipped with batch printing device in that case batch printing device prints the batch no. and other matter on label is stationary means time between sensing of two labels. The sensed round container moves on conveyor sticker label at labeling point wrapped around to container. Then the labeled container moves further through a rubber pressing belt and stationary rubber pad that ensures neat and perfect fixing of label.
Salient Features of Sticker Labeling Machine
Accurate label placement.
No change parts required.
Durable and high performance.
Fully stainless steel finish machine.
PLC with touch screen system.
Virtually maintenance free machine.
Servomotor instead of stepper motor.
Easy to change label application height.
Self Protected against Voltage Fluctuations.
Built In A.C. Variable Frequency Drive System.
Suitable for Glass, Plastic, Pet, Tin, Corrugated containers.
Suitable for Partial, Full Wrap Around and Overlap Labeling.
User-friendly display that everyone can operate without engineer.
The machine would stop labeling and alarm automatically when non-foil.
Label height from bottom can be also adjustable for different kind of containers.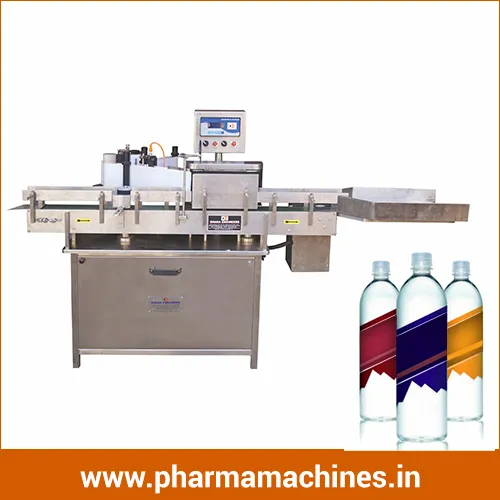 Optional Features
Label Roll Empty: Thismachine has Automatically Stop System with Alarm. The machine is stopped when Label roll is empty.
Missing Label in Roll: This machine has automatically stop system with alarm.
Low Compressed Air: Machine Stop with Alarm system for pneumatically o- operated coding system Turn Table and Packing Conveyor.
Special Label Sensor for sensing Transparent Film Labels which does not have any sensing mark on it.
Option of Contact Coder, Hot Foil Coder, HP Cartridge Coder and Inkjet Coder with various speed ranges available.
We provide this machine