Refined - Mustard Oil Filling Machine
We are a renowned name of the industry engaged in manufacturing and supplying a qualitative array of Refined – Mustard Oil Filling Machine from Ahmedabad. We offer an entire range of Mustard Oil Filling Machine that is best known for its quality. Sturdily constructed these machines are highly durable. These are highly performing and deliver complete sealing.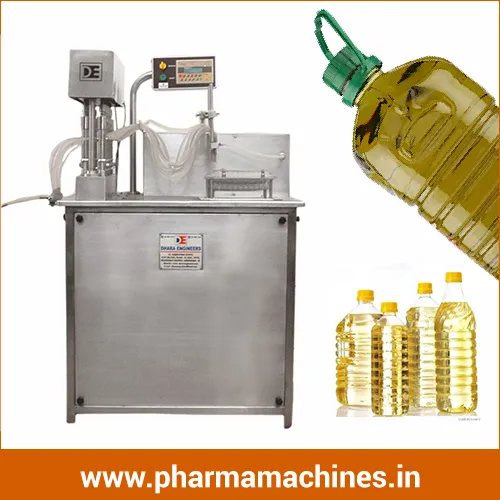 The liquids are sealed to maintain their oxidation stability, and to keep it safe and leakage proof. Owing to the Features like longer service life and smooth operation, our machines are highly demanded in packaging industry.
Our manufactured range of Mustard Oil Filling Machines refers to the filling liquids by volumetric flow meter. The speed of filling differs as per the volume to be filled as the machine is equipped with bottom-up fill assembly and adjustable volume control. We manufacture these filling machines using quality measures as per standards. It is efficiently equipped with adjustable volume control and bottom-up filling assembly and filling speed differs with volume. We have in store for our clients an extensive spectrum of Refined Oil Filling Machines that are designed in conformation with international quality standards. These machines feature volumetric piston operated filling system that finds application in packing viscous and oils.
Standard Features of Refined – Mustard Oil Filling Machine
Motorized height adjustment as per container.
PLC program control, inverter adjusts the speed, filling in line.
High-precision positive displacement flow meters, quantitative accurate and reliable.
Automatic cycle Start when Container is placed on the conveyor.
Digital Flow meters of VSE make aluminum body for volume measurement.
The filling machine is automatic quantitative liquid filling machine, suitable for filling all kinds of oils, such as edible oil filling.
The filling machine has a beautiful shape, a high filling precision, convenient adjustment and easy to operate etc.
The model is equipped with touch-screen, 8 meters Frequency belt, auto-sensing-based sealer, vacuum anti-drip device.