Our company offers a precision engineered range of Rotary Perfume Filler that is manufactured in compliance with relevant industry standards. We produce a vacuumetric liquid filling machine for volume filling applications. This machine is also called vacuumetric filler. It is useful filling machine designed for Alcohol, perfumes, and distillery industries. We utilize latest technology to manufacture this Rotary Type Perfume Filling Machine to achieve the highest speeds and most accurately filled bottles of perfumes. The fillers can accommodate wide range of bottle size, fill volumes and perfume types. It's simple operation and compact design makes our perfume filling machine appropriate for both small and big production units.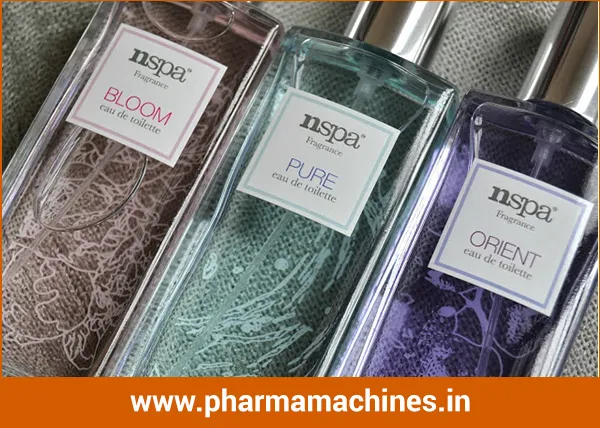 These Perfume Filling Machines are integrated with the advanced technology which helps in filling the bottles at a very rapid pace. Our fabricated Rotary Perfume Fillers are specifically designed to fill bottles of various sizes, volumes and different types. It is also designed to fill different types of perfumes. The compact and hassle free usage of our fillers make it suitable for all types of production units irrespective of their size and nature.
We offer a wide range of Rotary Perfume Filler Machine, which are a preferred choice of our customer's due to high quality results. This range encompasses perfume filling, vacuum filling, perfume crimping and cap plugging machines. Some customization facility provided by our company that suits our valuable client's specific needs. These are manufactured under the strict guidance of our highly skilled professionals that ensures its long life. Our offered Perfume Filler-Rotary is quality tested on various parameters by our highly skilled professionals before they are dispatched to our esteemed customers. Moreover, we assure our clients to deliver these products in given period of time. They are available at very competitive prices and in many dimensions.
Other Applications for Rotary Type Perfume Filling Machine
The Filler Machines provided by us can fill oil, juice, perfume, ink, water, etc for all containers such as bottles, jars, cans, etc. These Filling Machines are widely used in cosmetic, drinks, chemical, medical, food industry etc, which can highly improve productivity and product quality.
Body Structure of Perfume Filler-Rotary
Our manufactured range of Rotary Type Perfume Filling Machine is versatile, stand on stainless still legs with easily height adjustable system. Its frame is built on sturdy welded steel and completely enclose in stainless still sheet and doors to helping the servicing of machine. It works on volumetric principle. It satisfies the standard feature of machine – No Container No Filling and Sealing. In addition to maintain the quality of the products, we have installed high tech machineries and equipments for the process of manufacturing of this Rotary Perfume Filler. The main motor, air conveyor motor, washing motor, and out feed conveyor motor produces efficient and prolonged operation. The filling range is about 500 ml to 2 liters which provides fine rinsing.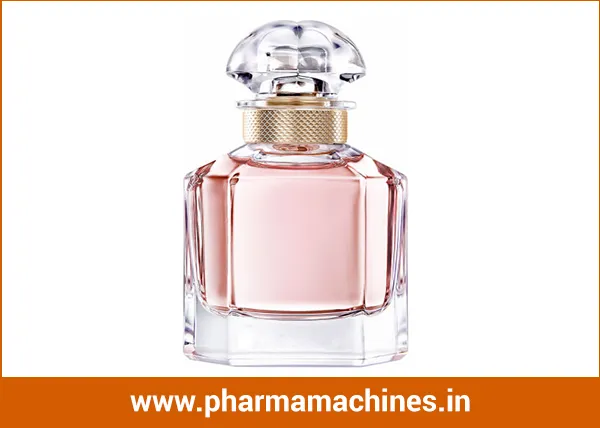 Working Principle of Rotary Perfume Filler Machine
The container rotating on stainless steel slat conveyor and continually filled by filling nozzle with the help of feed worm and in-let star wheel. The base of perfume filling operation consists of volumetric filling head and liquid reservoir tank. This tank continuously filled with perfume by outer source. The filling level of perfume in the tank is automatically controlled through sensor with the help of float switch. There is a screw to adjust the fill volume which is also used for change the volume of all syringes.
After completing the perfume filling process, the star wheel brings the container below the sealing head. At that time the bottle automatically picked up a cap and the sealing head perform the perfect operation of sealing when the body and neck of container takes the right positioned below the rotating head.
Salient Features of Rotary Perfume Filling Machine
Height of bottle can be easily adjusted.
Perform two operations with single operator.
Separate A.C. drive to control speed of conveyor.
Electronic Flame Proof Liquid Level Sensor Provided.
Flame-proof motor for vacuum pump and main drive.
Fill accuracy: + 1% depending upon the nature of the liquid.
No dripping or wastage of perfume because of vacuum and trap vessel.
Strong model with complete stainless steel Mat finished covered body.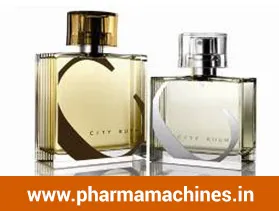 Advantages of Rotary Perfume Filling Machine
No bottle no filling facility owing to eye mark sensor.
Round turntable to unscramble bottle along with the machine.
This machine is available in cap deliver to achieve full-automatic.
Emergency switch is also provided in case of abnormal operation.
Our fabricated Rotary Perfume Filling Machine is come with PLC standard.
We provide this machine with high consistent filling level due to pneumatic control system.
Bottle feeding, positioning, operating all these process are controlled by pneumatic controller.
Specifications of Rotary Type Perfume Filler
Weight: 150kg
Speed: 25-30 bottles/min
Power supply: 220v 50hz
Air compressor: 4-6Mpa
Machine size: 1500*1000*1000mm
Filling precision: 1% more or less
Minimum filling volume: 5ml-100ml